Are you correctly selecting your cleaning contractor?
Your staff wants to feel safe and secure. They trust the premises are constantly being guarded and cleaned adequately, for their safety. We know you have a cleaning service that accomplishes this job and makes everything look "clean" visually. But are you doing something for the things you cannot see?
After the February Pandemic (COVID-19 outbreak) there has been a surge of cleaning providers offering a variety of cleaning and bio-disinfectant services. But do they qualify and are properly certified to carry out this type of services?
Is your business COVID-19 secure?
The Government is easing the lockdown of non-essential retail premises and outlets from Monday 15 June. This includes high street retailers and department stores, including book shops, electronics retailers, tailors, auction houses, photography studios, indoor markets, and shops selling clothes, shoes and toys. All the above are allowed to open their doors again provided they follow the guidelines set out by the government. As long as your business has put measures in place to become COVID Secure you can start trading from Monday 15 June.
We recognise that businesses have had a tough time and are keen to reopen as soon as possible. The last thing we want is for you to have to close your business again because you haven't put the right measures in place.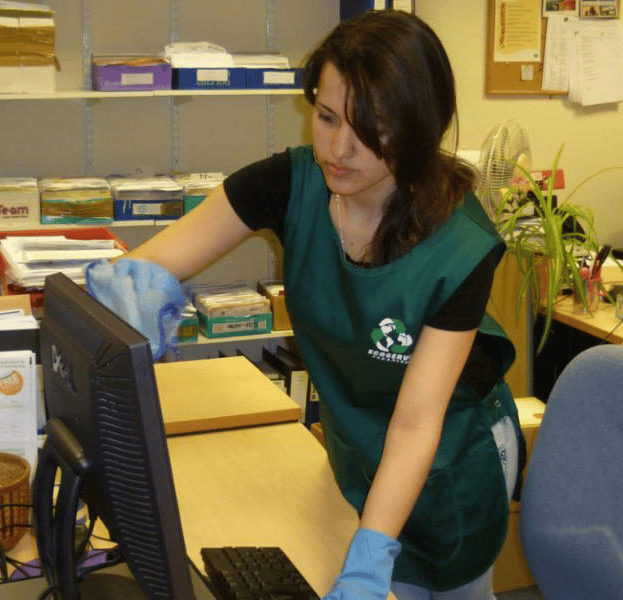 Cleaning during COVID-19 pandemic.
Regular cleaning plays a vital role in limiting the transmission of COVID-19.
Reducing clutter and removing difficult to clean items can make cleaning easier. Increase the frequency of cleaning, using standard cleaning products such as detergents and bleach, paying attention to all surfaces but especially ones that are touched frequently, such as door handles, light switches, work surfaces, remote controls and electronic devices.
As a minimum, frequently touched surfaces should be wiped down twice a day, and one of these should be at the beginning or the end of the working day.
Handwashing and using sanitisers.
Use signs and posters to help your workers practice good handwashing technique and to remind them to catch coughs and sneezes in a tissue or arm and avoid touching their faces.
Provide:
handwashing facilities with running water, soap and paper towels or hand dryers
hand sanitiser at locations in addition to washrooms, such as sanitising stations in shops
hand sanitiser nearby for people getting in and out of vehicles or handling deliveries, if they are unable to wash their hands.
COVID-19: A guide for Employers.
Coronavirus, formally known as Wuhan novel Coronavirus (WN-CoV) is part of the same family as Sars and Mers. This family of viruses originate in animals and jump to humans and there are seven variants. All these viruses present similar cold and flu like symptoms which make them exceptionally easy to spread and tricky to diagnose.
Symptoms to look out for include tiredness, cough and/or sore throat, breathing difficulties and high temperature. As these symptoms are so common in every workplace – it's people who have travelled to or from the affected countries recently who should be on high alert.
Dr. Mike Ryan, head of the WHO Health Emergencies Programme, said..
Why choose Ecoserve Cleaning?
Sanitation and disinfection of all touch points on every visit

Monthly audits to track & monitor our service delivery

Directly employed BICSc & Health and Safety trained cleaners

Extrict Colour Coding for Hygiene & COSHH focused

Use of eco-friendly materials and energy efficient equipment

Fully insured with £10 million ELP and £5 million P&PL cover

Quick response to our customers needs
Our cleaners must pass an enhanced DBS check on employment, wear a uniform and carry their I.D badges at all times. This way we safeguard your facility from unsuitable individuals.
We record and track the attendance of our operatives to ensure your facility's cleaning is completed on every schedule visit. This way you only pay for hours completed.
Attention to detail with everything we do is an important part of our philosophy. We work very close with customers to understand their specific needs and requirements.
We work only with suppliers that are committed to contribute towards the environment by using recycled materials, environmentally friendly chemicals and energy saving equipment.