Every business should consider cleaning its windows. Whether your business is small or large, your windows are probably one of your most essential marketing and customer attraction tools. Having clean windows is a great way to keep your company looking its best. And it's not just for the aesthetics of your company exterior; clean windows and a professional window cleaning service can also help you with the efficiency of your windows and keep your utility bills down. Hiring professional window cleaners will do the trick if your business is looking for an easy and cost-effective way to clean and maintain your windows. The professionals can keep your windows looking great and, at the same time, keep your company out of trouble. Professional window cleaners like Deep cleaning London services also keep you from doing it yourself, saving you money and time. They can do the job more quickly than you or your staff members can, which means that your windows will be sparkling clean faster. They are less likely than you or your staff to make any mistakes that could compromise the safety and function of your windows. When a window is cleaned, the technicians will inspect your windows for any potential damage. If they see anything that may require repair, they will advise you on how to proceed and what materials and parts you will need. In this article, we will be discussing some of the benefits of window cleaning for your business and office.
Here are a few benefits of office and business window cleaning.
1. Good health- Cleaning windows makes your office or business space more hygienic. By keeping your windows clean, you reduce the likelihood of harmful bacteria or viruses spreading around your business, which means your customers and employees are less likely to get sick. Cleaning your windows also ensures that any allergens, such as pollen or dust particles, are kept out of the area where your team works and conducts business. A deep cleaning London company can make your office or business space more comfortable and pleasant to be in.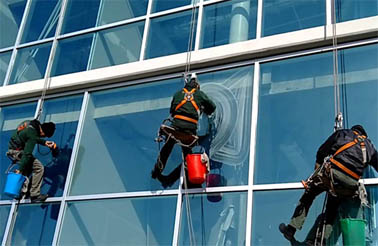 2. Workspace productivity- Clean windows are not only a great way to make sure your space looks clean, but they also keep your team members' productivity high. Clean windows promote clear, unobstructed vision and allow you to see your surroundings. They also allow your team members to see their surroundings clearly, which improves their ability to work effectively.
3. Positive first impression- Clean windows make a more positive first impression for your customers, which, in turn, makes your business a more inviting place to do business with. Customers like to see a clean space, which means they are more likely to take action and make a purchase. A cleanroom also reduces the appearance of clutter, which makes a business seem more orderly and attractive, which gives the company an air of professionalism.
4. Increases efficiency of the windows- Clean windows can enhance the efficiency of your windows. When windows are clean, they can do more. They can open and close more efficiently, which means your windows can be opened more often. This allows fresh air to circulate through your windows, which, in turn, will minimize the number of bacteria or viruses that remain in the air and your property. They can also maintain a consistent temperature that reduces the amount of energy needed to keep your windows warm or cool.
5. It saves a lot of time- By making your windows look more presentable and clean, you save valuable time and money by eliminating the need to do it yourself. The professional window cleaners can reach all hard-to-reach areas, such as the tops of windows, while you or your team cannot. The cleaners of Window cleaning London services are also more likely to finish the job in less time than you or your team members can. They are also more likely to clean your windows more effectively, which also saves you time and money.
Conclusion.
The benefits of window cleaning can be both simple and obvious. Clean windows are suitable for the health of your employees, customers, and your business. Clean windows are also good for your physical well-being by making your office or business space a more hygienic environment. Clean windows are also good for your workspace productivity, and they keep your employees healthy by helping to make your office or business space a more welcoming place to do business.