Business Compliance and Accreditations
Ecoserve Cleaning Limited is committed to ensuring compliance and conformance with legislative, regulatory and customer requirements throughout the company. This enables us to constantly enhance the products and services we provide and strive to always cooperate towards business and environmental responsibility.
The below Company Accreditations demonstrates our commitment to; Best cleaning Practices, Health and Safety, Quality Control, and supplier compliance for the financial services sector.
Safe Contractor offers accreditation to contractors in assessing their health & safety competence and therefore offering assurance that contractors have been adequately vetted. An accredited organisation proves clients that you have the credentials by pooling together all your health, safety, and ethical policies in one place.
Under the Safe Contractor system, businesses go through a strict annual audit process, which examines health and safety procedures, risk assessments, safe working methods and a track record for safe practices.
The system is applicable to most sectors, although it is particularly important to cleaning service providers, food manufacturers, property facilities management, retail, and leisure sectors, all of which are big users of contract services.
Clients have a legal obligation to ensure that external contractors and service providers working in their premises operate in a safe and responsible manner.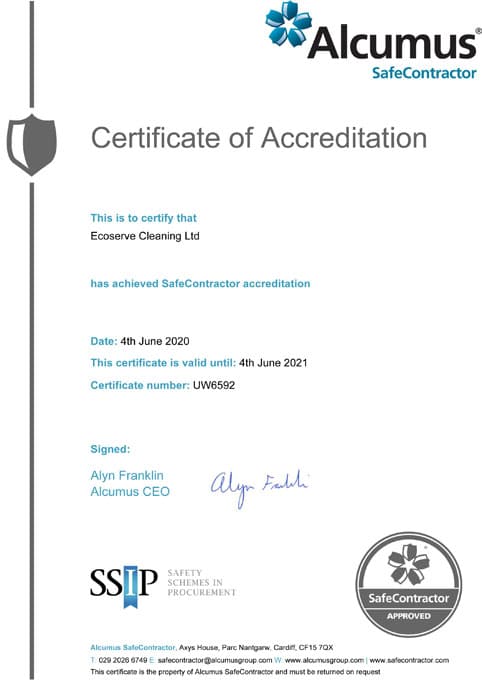 British Institute of Cleaning Science
The British Institute of Cleaning Science (BICSc) is the largest independent, professional, and educational body within the cleaning industry, with over 45,000 Individual and Corporate Members. A Corporate Membership helps a cleaning provider to gain recognition for their competence and gives exclusive insights into the cleaning industry.
The mission of BICSc is to raise the standards of cleaning through education and build awareness of the cleaning industry through professional standards and accredited training. Our clients know that we have gained the skills and qualifications to deliver the best overall 'Best Practice' for the cleaning industry.
BICSc Standards combine intelligence from several highly regarded cleaning industry experts. Across the board, these individuals have an exceptional level of both knowledge and experience across a variety of cleaning industry sectors.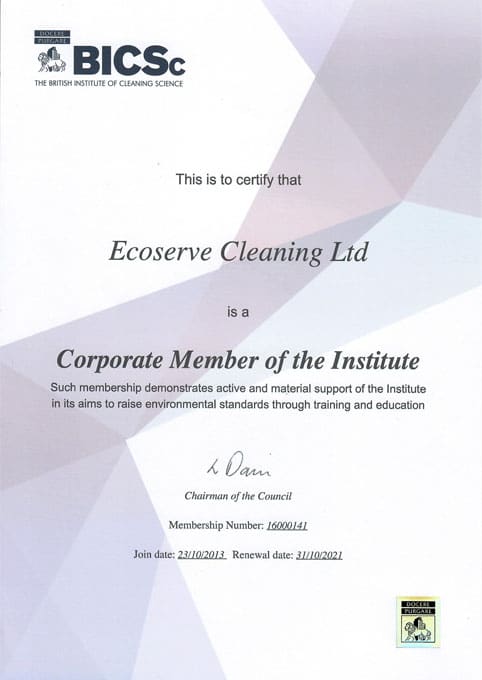 Financial Services Qualification System
The FSQS accreditation is valued by a growing number of the purchasers in the financial industry as it indicates a successful audit process and demonstrates our commitment and capabilities to the sector. As the regulated environment in the financial sector becomes more complex, FSQS accreditation provides them with a standard and simple methodology for collecting and managing supplier compliance information.
The FSQS Registered Mark is valued by some of the largest purchasers in the financial sector and indicates that Ecoserve Cleaning Limited has gone through the process required to demonstrate its commitment and credentials to the industry.
FSQS helps introduce responsible business practices and is currently used by 37 Bank institutions and Insurance companies in UK.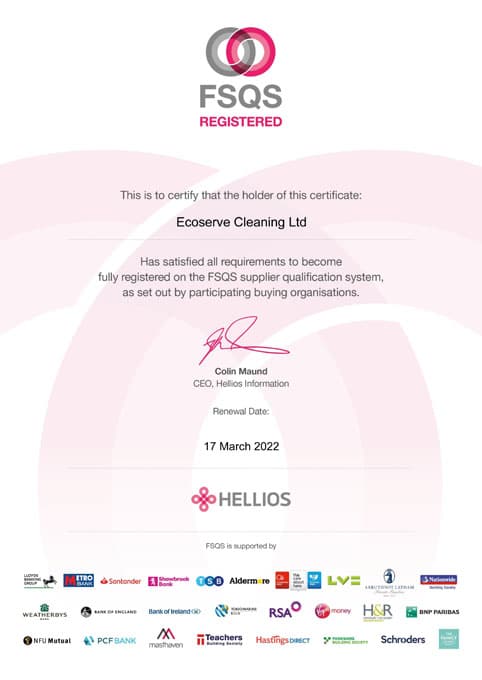 Contractors Health and Safety Assessment Scheme
CHAS certification is meant for consultants and contractors who apply for work within the private and public sector organisations, and often acts as a type of pre-qualification during a tender process. The purpose of CHAS certification is to assist buyers as well as suppliers in the process of health and safety competence assessment.
Being CHAS certified provider minimises duplication as prospective clients accept the compliance of the supplier in other words, it makes things very easy and simple for potential clients to gain an insight into your working standards in terms of health and safety. So, having a CHAS certification certainly help win new business, especially for large corporate clients. CHAS also guides the supplier through any flaws in managing health and safety, thereby helping them to improve service delivery.
Quality Management System
ISO 9001:2015 certification indicates the organization adherence to quality management practices and provides awareness and methodologies to prevent potential risk to customers. These good practices are compiled into a set of standardized requirements for a quality management system for your organisation. ISO 9001:2015 is important because of its international acceptance. It is recognized in more than 120 countries around the world and is the logical choice for any organisation involved in business or committed to quality.
Benefits A well designed and implemented quality management system, can provide organizations with the following benefits:
Framework for Improvements, Improves product reliability, Better process control and flow, Professional documentation of the processes, Greater employee quality awareness, Perfect understanding of customer expectations.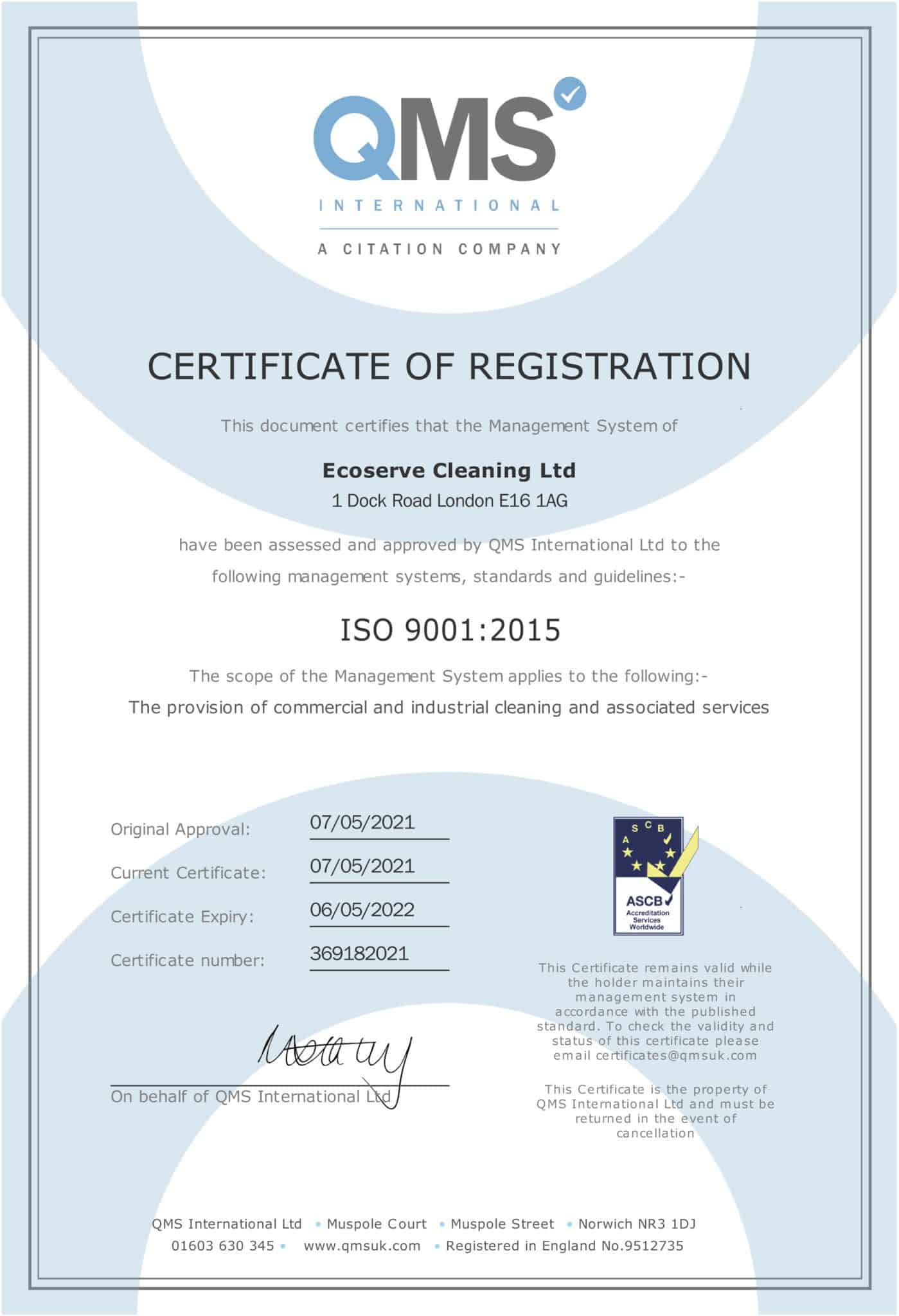 Implementing the ISO 14001 companies are setting the standard for environmental management systems. By implementing the system within your business, you are helping companies to protect the environment, build customer trust and meet legal obligations.
Protecting the environment is an important business issue. Many organisations now require their suppliers to have specific environmental management plans. Implementing ISO 14001 policies will enable you to demonstrate to customers and stakeholders that your business is committed to reducing its environmental impact.
The ISO 14001 standard provides you with an internationally recognised framework for setting up an environmental management system (EMS). Any organisation can use the standard to reduce waste, improve resource efficiency and cut waste management costs.
ISO 14001 is the most important standard in the ISO 14000 series of environmental management standards. The International Organisation for Standardisation (ISO) has developed this series for businesses and other organisations looking to reduce their environmental impact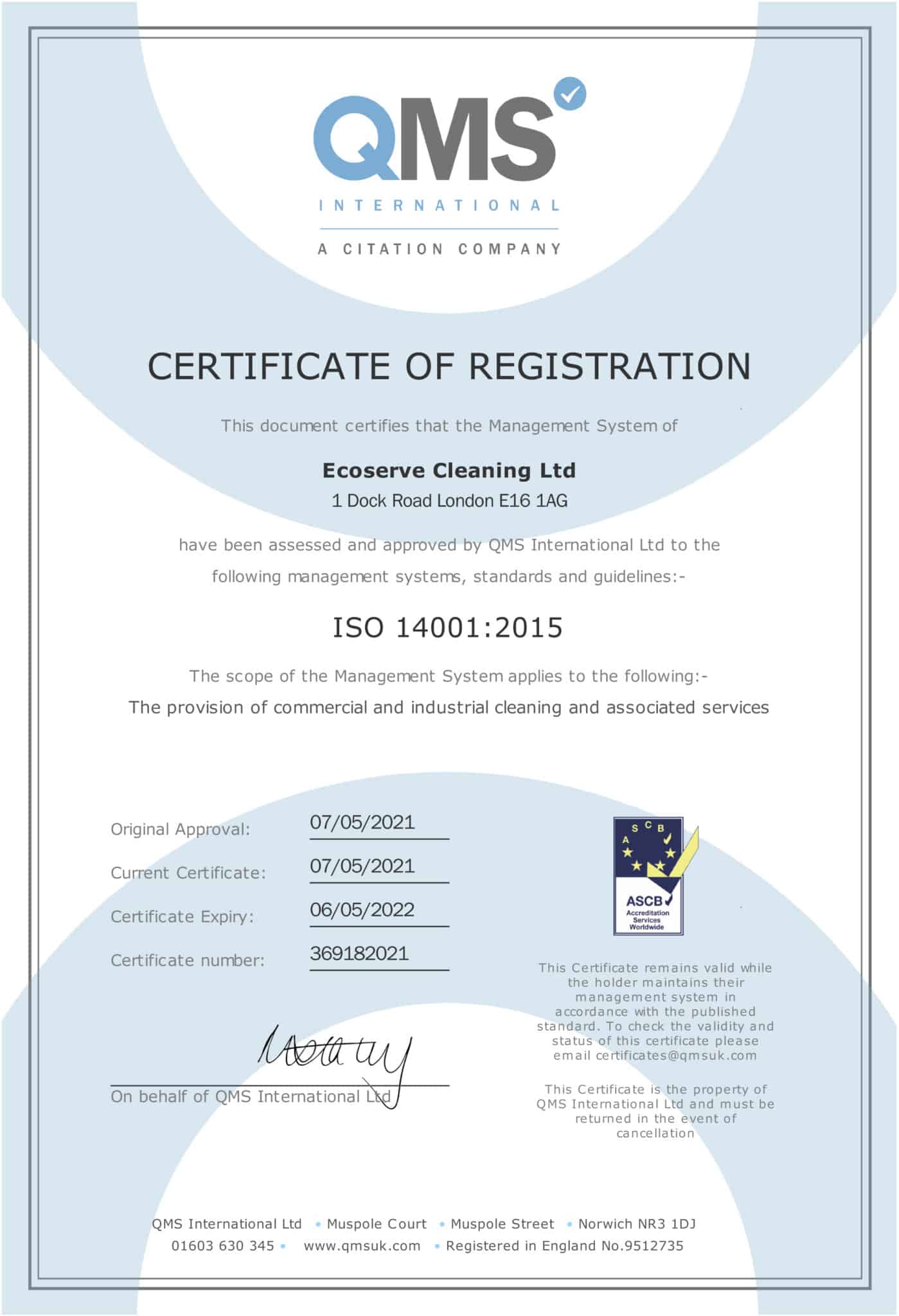 Health and safety management and advisers.
HS Direct Ltd provides with detailed information on the rules and regulations set by the Health & Safety Executive as well as provide information and assistance for setting up Risk Assessments, Method Statements and COSHH Assessments.
The service offers companies and their management the opportunity to deal with their Health & Safety issues as they arise, giving them the confidence to act quickly and confidently to resolve the any situation. The Health & Safety Service is managed with a large team of highly committed Consultants with qualified and competent holding membership of recognised professional bodies. They all have practical experience of working in a range of industries and with a wide selection of businesses.
Every employer is required under the Health and Safety regulations act 1999 to appoint a Competent Health and Safety adviser to assist them to meet with their legal health and safety obligations. Any employer who has not done this is in breach of their statutory duty under Health and Safety Legislation and therefore becomes liable to criminal prosecution.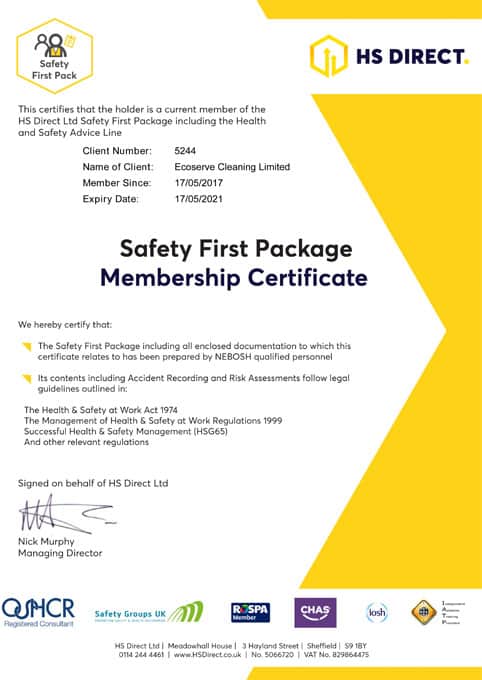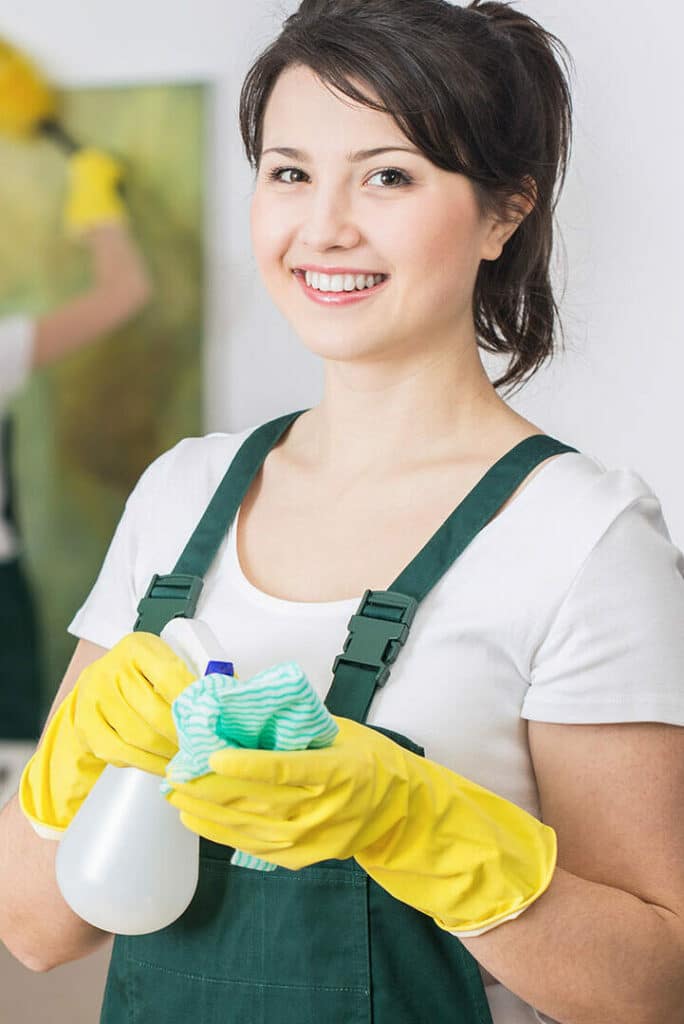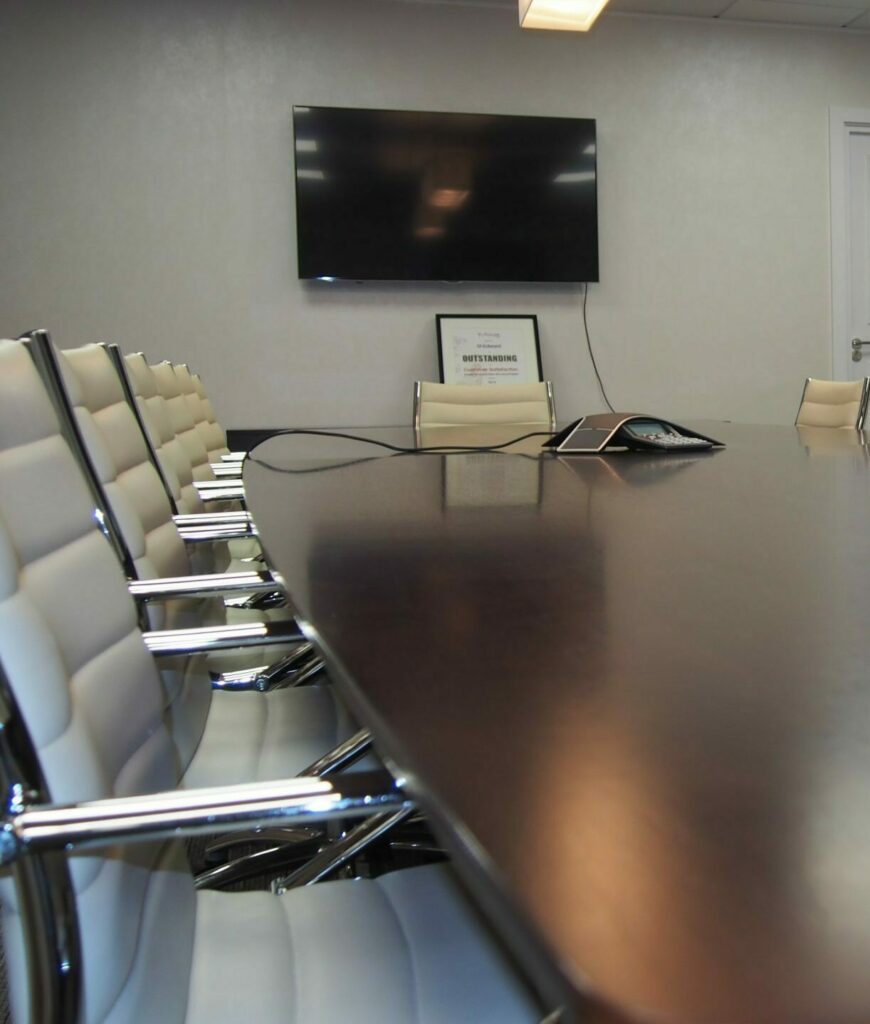 The secret of our

success
Service delivered with passion and professionalism.
Directly employed BICSc & Health and Safety trained staff

Strict Colour Coding for Hygiene & COSHH focused

Bespoke Cleaning Specification for all contracts

Sanitation and disinfection of all touch points on every visit

Monthly audits to track & monitor our service delivery

Enhanced DBS Staff with uniform

Competitively priced cleaning contracts with flexible work patterns

Use of eco-friendly materials and energy efficient equipment
Our cleaners must pass an enhanced DBS check on employment, wear a uniform and carry their I.D badges at all times. This way we safeguard your facility from unsuitable individuals.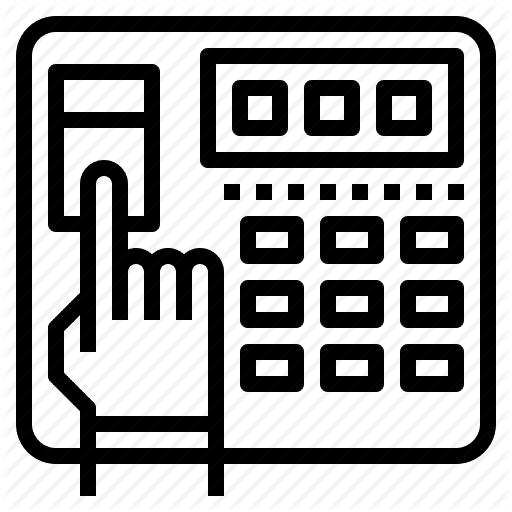 We record and track the attendance of our operatives to ensure your facility's cleaning is completed on every schedule visit. This way you only pay for hours completed.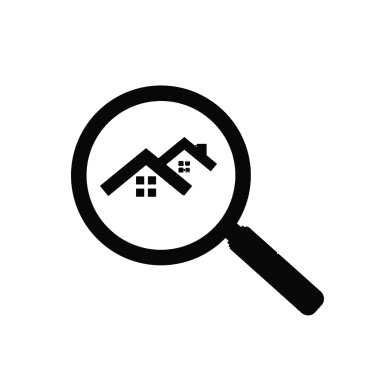 Attention to detail with everything we do is what makes us stand out from the rest. We work very close with customers to understand their specific needs, while keeping a close eye on your budget.
We work only with suppliers that are committed to contribute towards the environment by using recycled materials, environmentally friendly chemicals and energy saving equipment.